Are you bored out of your wits and looking for a fun sport that will also help you lose those ugly calories from donuts? I bet you are, which is why you stumbled across my article. Because personally, tennis has been my escape route from my problems and an exciting way to lose fat and let off steam. But when you decide to make tennis your main activity, a big red question arises in your head, i.e., what equipment should you have?
The answer to this question might look a little intimidating to a newbie due to lack of knowledge, but don't be scared because the tennis list equipment list is elementary. It includes all the basic yet essential equipment. You must always take care to keep everything in your tennis bag and take it to court. Who knows what you might need at what time. As it is said, better be careful than sorry!
So, to make things simpler for you, I have prepared a list of the essential tennis equipment that you should always take with you to the game. Read the guidelines carefully and remember, never skip on anything as it might cause you a game. So without wasting any more of your time, let's dive right into the details.
Tennis Equipment List
This list can help you a lot especially during the initial days of playing tennis.
1. Racket
Starting with the essential and most vital equipment needed for playing tennis ,i.e., racket. There are many different rackets present in the market. They are all different in terms of material, weight, size, shape, and performance. You must always pick the one in accordance with your personal preference and compatibility.
In my opinion, an ideal tennis racket is one made with Alloy as they are lightweight and have great strength. Thus you can easily carry it during the game without affecting your movements and efficiency levels.
Read our review guide about the best tennis racquets and choose the best one.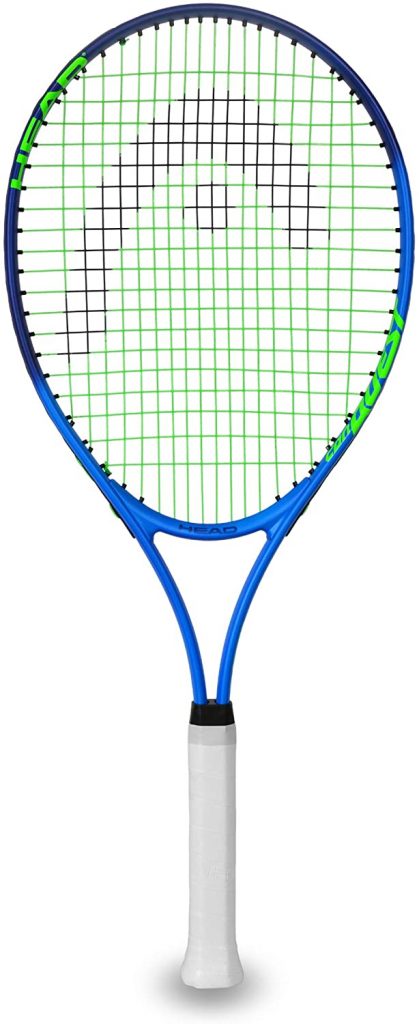 2. Tennis Ball
A tennis ball is the second most vital thing as, without it, you will have nothing to hit with the rackets. These spherical balls measure 2.5 inches and weigh 2 oz. It is basically a rubber-shelled balled with compressed air inside and covered with a yellowish-green felt. Due to compressed air inside, these balls are a little heavy and don't bounce as easily. However, they are large enough and soft enough to hit easily with the racket.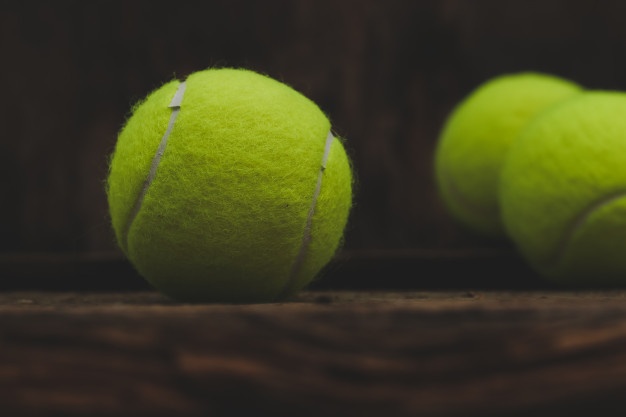 For newbies, Penn Championship Tennis Balls are best because they come in a pack of 3. But if you have a good budget, you can purchase multiple cans as well. We recommend Tourna Mesh Carry Bag because it contains 18 balls.
3. Dress
Tennis has its own proper attire deliberately designed to enable free body movement so as not to hinder your performance on the court. The dree code for tennis is a plain white top with matching tennis shorts whereas females can wear a white shirt in place of shorts. However, it is not widely followed, and people wear whatever they are comfortable with and, in the case of females, whatever looks stylish.
As a bonus tip, you must always wear polyester tops because it does not absorb sweat, thus keeping the player cool and odor-free throughout the game and afterwards.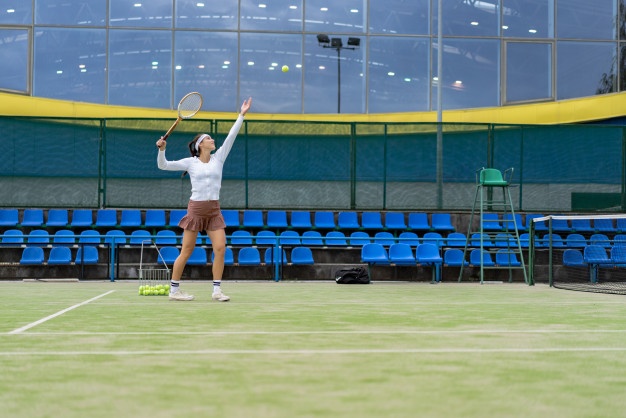 It's not easy to choose the best tennis attire, but we have made things easier for you. If you want to buy tennis attire but are not sure about the best options, try these options. PGA Tour Women's Airflux Sleeveless Golf Polo Shirt and PGA Tour Women's Golf Skort.
4. Tennis Shoes
Tennis shoes are separate from regular shoes. They are designed to enhance the performance of a player on the court. They have a rubber sole so that they won't damage the court floorings and also because rubber has outstanding slip-resistant qualities that will reduce the chances of you falling down and getting hurt.
The upper of the tennis shoes are made of breathable mesh that increases air ventilation to eliminate the risk of sweat accumulation and overheating.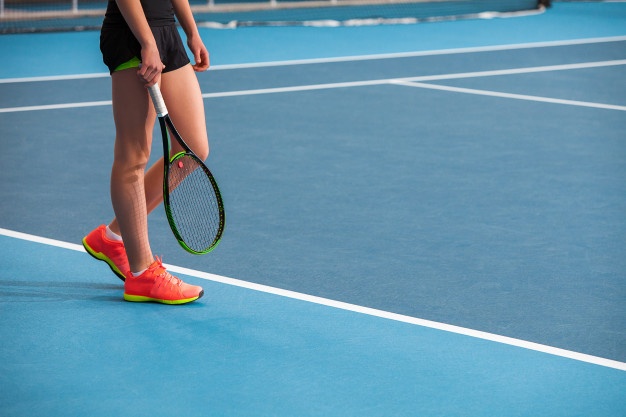 Some best options for tennis shoes for men and women are ASICS Men's Gel-Dedicate Tennis Shoes and K-Swiss Women's Express Light Pickleball Shoes.
5. Headband
Wearing a headband is not an absolute necessity; however, it is better if you wear it. The purpose of wearing a headband is to absorb the sweat from the hair and forehead so that the perspiration beads will not fall into your eyes and affect your vision.
Believe me, you don't want your eyes filling with water while you are desperately trying to catch your breath and win simultaneously. So, get yourself towel headbands if you don't want to face that problem.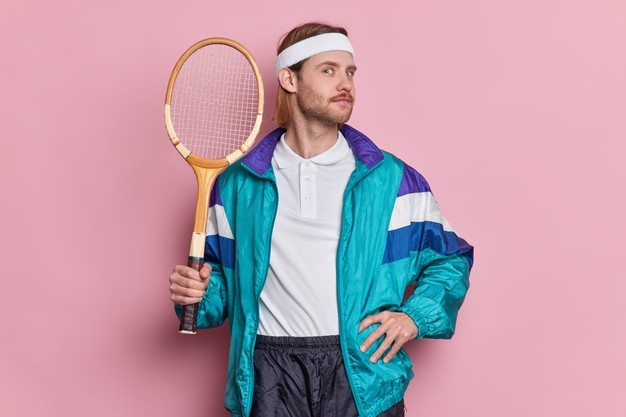 6. Wrist Bands
Tennis is a high-intensity game that will have you panting and sweating in no time. All this sweat is bound to slide down your arms, along your wrists, and onto your hands. When your palms become sweaty, the grip absorbs it and becomes wet. This reduces the life of the racket grip considerably.
The wet grip may also become very slippery and thus affect your efficiency and performance. So, it is always a good idea to wear a wristband on your dominant hand wrist.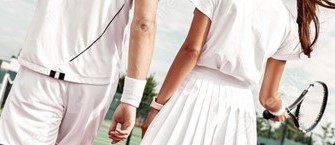 7. Net
A firm net separates the tennis court with an approximate height of not more than three feet. Each part stands on the opposite side. The holes of the net are large but not large enough to let the tennis ball pass through.
This net is kept in place by two poles placed on the edges of the mid-portion of the court. It is considerably heavy and is bound to loosen up every now and then. So, for ideal performance, you are advised to tighten the screws on the poles holding the net in place.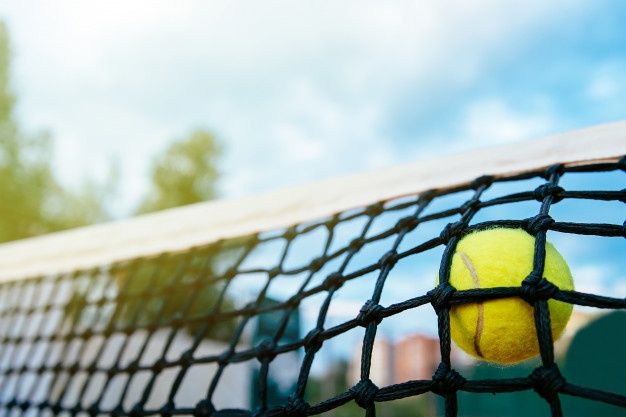 If you're new to tennis, then read the following posts:
How to choose a tennis racket?
Now you must have an idea of tennis equipment list. Let's discuss some FAQs.
Frequently Asked Questions (FAQs)
What do you need to play tennis?
There are quite a several things that every tennis player must have. To enlist a few things, a tennis player must have a racket and a ball, for starters. Apart from that, a tennis player must take precautions for protection against the sun, so always keep sunscreen with higher SPF. To keep your water balance in check, you must keep a water bottle with yourself all the time. On the side, keep extra overgrips, wrist bands, and towels, etc.
What safety equipment is required in tennis?
Like any other outdoor sport, tennis poses specific minor hazards as well. For example, you may fall down on your face if your foot accidentally gets stuck in a ditch in the court during the play. So, always play in a court that has even floorings. Apart from that, you must keep an extra set of apparel in your waterproof bag with a set of towels.
Keep a bottle in the bag to remain hydrated and apply sunscreen with SPF equal to or greater than 30 on a sunny day. You might want to keep a hat for the sun so that the sun wouldn't shine directly into your face.
What to put In your tennis bag?
When the question arises about what a tennis player must put in their tennis bag, the answer is quite simple. You must at all times have an extra set of apparel and clean towels in your bag. Apart from that, keep a water bottle to keep in check your daily water intake.
A sunscreen with SPF 30 or above is a mandatory item that you must have at all times. Then comes the wrist bands, first aid kit, backup strings, and racket grips.
Some Other Important FAQs
What are the risks in tennis, and what tennis equipment would help reduce them?
Tennis poses lower risks as compared to many other sports. However, there is still some level of minor risks associated with it. For example, playing on a sunny day poses the risk of your skin getting burnt, or a rash may appear on sensitive skin. So to remedy that, you must always apply sunscreen fifteen minutes before you go out to play. Reapply the sunscreen every hour. You may also scratch your knees, so always wear a knee band and keep a first aid kit at all times.
What is tennis attire?
Like any other sport, tennis requires proper attire from you. The reason behind this is to enable you to move your body freely as you run around playing tennis without having to worry about straightening your clothes mid-game. The proper attire for tennis is plain, while a half-sleeved cotton top with matching tennis shorts. Females can wear a matching skirt in place of shorts. White attire is mandatory; however, this rule is not followed widely around the globe.
Final Thoughts
Assuming that you read my article very carefully, you are now fully aware of the complete list of all the tennis equipment you will require in the game. You need to take care of just a few simple things before heading off to the court.
Remember, it is mandatory that you take all of your equipment to court because, believe me, you really do want to be prepared for anything that might happen. You should always be prepared for the worst so that you will better be able to handle it when it happens.
My final word of wisdom to all the young and beginner tennis players is that they must keep a first aid kit with themselves at all times because excessive running or any other event may cause you to slip and scratch your knees, ankles, or wrists during the game. In that time, instead of rolling up and crying like a baby, take out your first aid kit, fix your wound and get your ass back in the game!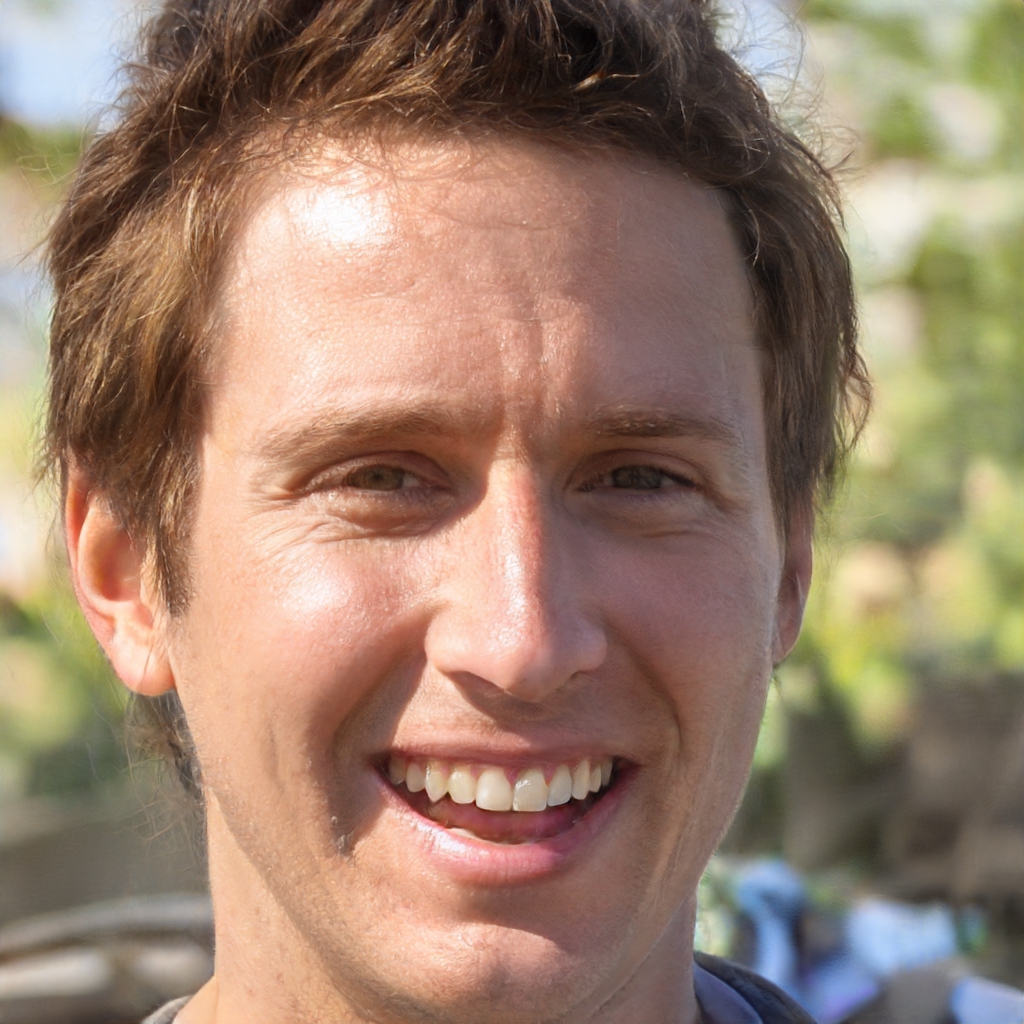 I am 27 years old and playing tennis since the age of 15. I am passionate about tennis and love to write about tennis and tennis products whenever possible. I regularly play tennis and love to review tennis products.