It's not easy to become a tennis star without choosing the right tennis racquet. A tennis racquet can help you become a star in no time. I have spent years in this field, so I know how difficult it is to choose a tennis racquet. You have to consider lots of factors, such as your level of play, comfort, and many more.
Are you searching for the best tennis racquet? If so, you are in the right place because here you will find the list of top tennis rackets. Finding a perfect tennis racquet can be a daunting task. Moreover, it's not just about picking a racquet based on just price; you have to consider control, comfort, power, and stability.
Moreover, all the tennis racquets are not equal so you will have to pick according to your need. Therefore, we have researched and used dozens of rackets and compiled a list of the best tennis racquets for you.
Types of Tennis Racquets
There are three major categories of tennis racquets. These categories can be further divided into sub-categories. Let's have a look at the main categories.
1- Power Racquets
It is evident by the name that such racquets produce power in your balls, so you don't have to hit hard. Ideally, these racquets are best for beginners because they don't have a fully developed technique. Moreover, a power racquet can help put pressure on the opponent.
Power racquets are the best for both men and women. Moreover, it's ideal for those players who are unable to generate power in their shots and lack the ability of hard-hitting. Furthermore, power racquets are lightweight, have a long and stiff frame, and bigger head sizes.
2 – Control Racquets
Control racquets are the best choice for advanced players. so, these are ideal for players who have a well-developed technique. Moreover, they can generate enough power. Control racquets are heavier than power racquets. They have a smaller frame and head.
3 – Tweener Racquets
This type of racquet lies between control and power racquets. Therefore, they got the name of Tweener from the word in-between. Additionally, it offers the features of both power and control racquets.
Our Top Picks
Best Tennis Racket Under $100

Best Tennis Racket Under $200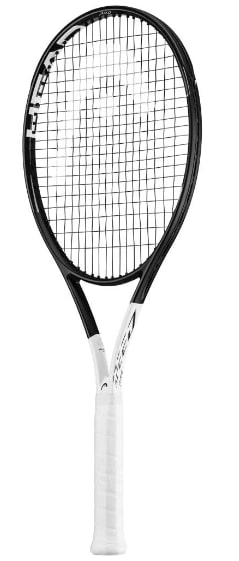 Tennis Racquet Comparison
10 Best Tennis Racquet

s
Here is a list of top tennis rackets to buy in 2021.
1-

Babolat Pure Drive

– High Quality Tennis Racquet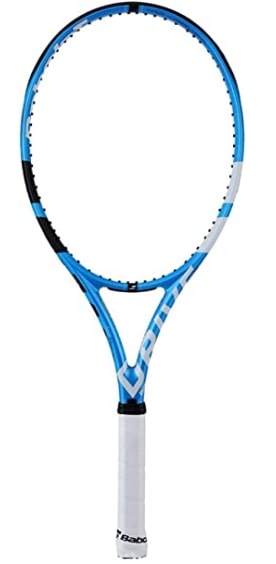 Due to the use of FSI technology, the racquet provides power and spin and I have tested this feature while playing on the court. It is probably the best tennis racket available in the market because it provides power, feel, and spin.
Moreover, it is used by many greats of the game like Andy Roddick, Li Na, and Fabio Fognini. Its frame size is slightly larger than advanced racquets, so it provides a better feel.
It is an excellent tennis racket for beginners because of the better spin and feel. Moreover, advanced players can also use this because it allows hitting controlled groundstrokes. It's lightweight and perfect for those players who don't have much mobility.
Viscoelastic rubber makes it an arm-friendly racquet. It uses three leading technologies, such as:
Woofer: This type of frame design allows strings to move freely to produce more power, less shock, and a sweet spot.
FSI: It allows more spacing between the cross strings. As a result, you can get more spin, comfort, and power.
Pure Feel: Viscoelastic rubber is applied to the frame to make it arm-friendly and make a racquet softer.
Some Special Attributes of Babolat Pure Drive

It is our top tennis racquet because of these three attributes.
Ground Strokes Its frame and long head help generate massive hitting power for groundstrokes. Furthermore, 16*9 string patterns are useful for producing spin. The flexible frame design makes you feel that everything is under control.
Maneuverability: It is an easy racquet to maneuver which makes it ideal for producing effortless groundstrokes.
Returns: It's not only good for hitting groundstrokes; it's an excellent choice for hitting returns because of maneuverability. Its flexibility allows you to react quickly.
2 – Head Graphene 360+ Radical MP

– Top Tennis Racket
This tennis racket is for medium to advanced players. This tennis racquet is used by Novak Djokovic. It is the perfect racquet for players who want balance and control. The purpose of Graphene is to remove vibrations from the racquet. Moreover, 100 square inches of head size helps generate the required power.
It is the best budget option and a good alternative to Babolat Pure Drive. It comes in 16*19 string patterns to provide better control over your shots. Its large head makes it the right choice for hitting groundstrokes. This radically balanced racquet can help to do everything well.
It is probably the top-rated tennis racquet in the world today. 11.2 ounces weight provides extra power, but it's not the best option for beginners. It provides much spin and power for most intermediate players.
It provides excellent control and balance and helps remove vibrations, so it is the best tennis racket to buy.
3 – Wilson Blade 98 v7

– Best Wilson Tennis Racquet
It is the 7th version of the Blade and the best so far. It is a version of the racquet of Serena Williams. Moreover, it is an ideal choice for players who want comfort and control. In terms of features and price, it is a balanced racquet. The brand has used the FlexFeel technology that took this version to the next level.
Furthermore, this new tennis racquet is equally useful for volleys and groundstrokes. It only weighs 11.3 ounces, that's why it is an excellent choice for intermediate and advanced players. Moreover, it helps me to generate spin and power on groundstrokes because it has a 16*19 open string pattern.
Moreover, to provide a feeling of comfort and control, it offers a stable frame. If you don't want to generate much power and just looking for control and touch, this is the best racquet for you. In conclusion, players who are interested in more power need to consider other versions of Blade.
Best Wilson tennis racquet offers an excellent swing and laser-like accuracy. Furthermore, it offers high speed. Carbon mapping technology gives you more dept in shots.
As compared to the previous versions of Blade, this racquet seems excellent. This edition of Wilson offers a slightly longer grip that makes it easier for the players to find the right grip. Watch this video for more details:
This racquet can help you get control and touch but lacks power. So if you feel it satisfies your needs then go for it.
4 – Tecnifibre TF 40 305

– Perfect Tennis Racket
This racquet brand is not as famous as other tennis racquet brands. Recently, it has become the most popular racquet brand due to the success of Daniil Medvedev. Like Babolat Pure Drive, it is the best tennis racquet for all level skill players. Moreover, it is the go-to racquet of some professional tennis stars like Dennis Istomin and John Millman.
When the 98 sq inches frame size is combined with tight strings, it provides excellent control, feel, and comfort. Moreover, this racquet uses Dynacore XTC technology to keep the ball on the string and increase your control. It is lightweight, and good for mobility.
Hence, it is an excellent choice for intermediate and advanced players. If you are a tennis player and can generate power, this racquet is for you because it can help with control and touch in strokes.
If you are looking for stability, this tennis racquet will provide you the stability to put pressure on opponents with precise hitting. Moreover, Xtreme Touch Construction technology is involved in frame design to provide flexibility and stability. It's not a spin-friendly racquet.
T-FIGHT technology is used to reduce vibration and shock. Due to T-FIGHT technology Tecnifibre is easy on the arms.
This lightweight racquet offers mobility, control, and touch so it's worth buying.
5 – Wilson Clash 100

– Most Popular Tennis Racquet
It is another excellent product of Wilson. It offers a lower stiffness value that makes it easy on the arms. Moreover, it provides stability and comfort, as well. StableSmart and FreeFlex technologies offer a great deal of flexibility.
StableSmart supports the geometry of the frame to maintain stability and power. On the other hand, FreeFlex improves the striking level flexibility of the frame. When both these technologies work together, they reduce the racquet's stiffness, maintain a controlled feel, and increase comfort.
Furthermore, the head size is 100 square inches that can help add more power. This top-rated tennis racquet is lightweight and easy to maneuver. Additionally, its lightweight allows players to generate lots of speed. Therefore, Wilson Clash 100 is an exciting racquet for intermediate players. Moreover, it is known for its excellent spin producing ability.
You can use it for aggressive shots. It isn't ideal for volleying because of its low weight. Undoubtedly, Wilson has produced some excellent tennis rackets over time. In conclusion, it can be said that it is the best tennis racket available in the market.
6 – Babolat Pure Aero

– Good Quality Tennis Racket
Babolat Pure Aero has gained popularity because it was used by the king of the tennis court Rafael Nadal. Undoubtedly, the defining feature of this racquet is its ability to produce topspin. In 2019, a few small changes were made in the design, for example, a slight reduction in stiffness to provide more control and be easy on the player's arm.
Moreover, I have noticed that Active Cortex Technology helps reduce shocks and vibrations from the top of the handle. It is more comfortable than the previous model because it has updated frame, and players enjoy hitting. Furthermore, there is a color change as well, and the color is now changed from electric yellow to toned-down classic yellow.
It has a 16*19 string pattern, and FSI Spin technology allows strings to move freely and generate more topspin. Moreover, it has 100 sq inches of head size and stiff head to get the much-needed power on topspin. It allows the ball to stay for a long time on the strings.
Furthermore, the unique design and shape of the frame allow the racquet to swing through the air quickly. Players who love to get points by hitting with topspin from the baseline can use this racquet.
The best thing I love about this product is Active Cortex Technology because it provides me comfort during play. For more details, watch this video:
7 – Wilson Pro Staff 97L

– Cool Tennis Racket
It is a lightweight racquet and new addition to the tennis racquet market. It is an ideal racquet for players who want to move from beginners to intermediate. Special carbon fiber is used to reduce shock and provide more feel and power.
As the name suggests, Wilson Pro 97L uses 97 sq inch head size, and only weighs 10.8 ounces. It's pretty much less in weight than its brother RF 97, therefore it's the most approachable racquet for many players.
When a 16*19 string pattern is combined with 97 sq inch head size, it generates topspin and provides players with more control. Another exciting feature is the 23 mm beam, which gives the racquet more pop without compromising control.
If you are looking for the style and feel of pro staff, but you want lighter, faster, and some extra power, then this one is for you. It swings very quickly and ideal for beginners to respond with powerful strokes. Furthermore, this 16*19 ratio gives it an excellent combination of spin, control, and power.
Countervail Technology makes it the most comfortable tennis racquet. The purpose of countervail material is to reduce vibrations and absorb shocks. Thus technology makes it easy on the player's arm. Thin Graphite frame provides you control over your racquet.
Who Helped in Designing?
The greatest player of tennis Roger Federer himself, helped in designing and developing this racquet. Other tennis stars have also used this racquet. Therefore, it is a nice tennis racket. In conclusion, we can say that this best racquet won't let you down.
After looking at all the features, we can say that Wilson is the best tennis racquet brand.
8 – Yonex Ezone 98 Blue

– Best Yonex Tennis Racket
I have added this to my list of top tennis racquet brands because of its excellent control. This tennis racquet uses unique technology to provide a fantastic hitting experience. A feature that makes it unique from others is Carbon Graphite composition.
This Nanometric DR technology allows the frame to flex and get back into place on contact. For better flexibility, the company uses the Oval Passed Shaft (OPS) system to narrow the racquet's shaft. Furthermore, when these technologies are combined, they form a professional tennis racquet that is control-oriented.
Moreover, it has 98 sq inches of head size to generate power. Yonex uses Isometric Square to increase the size of the sweet spot. Head size can be increased by up to 48% when compared with other tennis racquets.
The best tennis racquet must provide topspin, and it has a 16*19 string pattern to provide plenty of topspin. Additionally, it has another excellent feature to reduce vibrations because Yonex adds Quake Shut Gel. Moreover, this gel increases comfort while hitting.
Its unique head size offers an excellent hitting experience. Therefore, I would defintely recomend this product.
9 – Head Graphene 360+ Speed Pro

– Top Rated Tennis Racquet
This head racquet is best for advanced players. If you are looking for balance, then this one is for you. Moreover, it has a unique string pattern of 18*20 that provides excellent control over shots. Advanced players love to generate power, so its 100 sq inches head size can generate more power.
This head size can also help to generate spin from your ground strokes. An interesting thing about this racquet is Novak Djokovic uses it. This racquet is for some high-level intermediate players as well. Its new version is also released in 2020, which is almost similar to the previous one but with a slightly different color.
It starts providing excellent performance from the baseline by allowing for big groundstrokes. This racquet is made of Graphene, which is robust and lightweight material. In the past, this material was used only for the throat and handle of the racquet, but Graphene 360 makes use of Graphene throughout the racquet's head.
Moreover, Graphene reduces the weight on the frame's midsection to distribute the weight for producing a fast swing. It has easy to maneuver and fast swinging frame. Aggressive players can use this racquet to generate topspin from the baseline.
I'm not an aggressive player so I don't have enjoyed much playing with this racket. But if you feel you're aggressive player, you can try this racket.
10 – Wilson Adult Recreational

– Best Mens Tennis Racquet
Wilson brand is producing pro tennis rackets for more than a century. Moreover, Wilson is producing products for all ages people. The main goal of Wilson is to help players make memories.
It is the most selling tennis racquet on Amazon. The aluminum construction makes it stand out from other brands. Wilson brand uses volcanic frame technology to generate power and stability. It contains shock pads to reduce vibrations and provide better control.
It is the top-rated tennis racquet on Amazon. Best Wilson tennis racquet offers an extended head size so that players can get an expanded hitting area. Moreover, it is ideal for players who want to generate moderate swing. The specialty of this product is easy to swing design that can help generate extra maneuverability and power.
Before buying the best tennis racquet, you will have to consider the following things.
Head Size
It usually describes the area in which strings are located. Head size is an important factor because it helps in transferring power to the ball. A racquet with a large head can help generate power through the ball. On the other hand, small head size generates less power. Advanced players can use such racquets because they have a well-developed technique, and can easily generate power. They can use small head racquets for better control.
Weight
Heavier rackets provide more stability and can help generate more power through the ball. The best thing about heavy racquets is they don't get a swing in the hand while striking the ball.
Length
Length plays a more significant role, especially in maneuverability. When the racquet has a long length, it might feel heavier when swinging, but it can increase the range. Usually, the length of good tennis rackets is 27 inches, and the maximum length of a tennis racquet is 29 inches.
Stability
Stable tennis racquets provide accuracy and consistency when you strike the ball. Most table tennis racquets have smaller heads, heavier and less stiff frames.
Comfort
Here comfort means that the shock and vibration that your arm faces after striking the ball. Therefore, some players associate comfort with the weight of a racquet. Comfort-oriented tennis racquets are more flexible, heavier, and can absorb shock.
Read our detailed guide about tennis racket size selection.
Frequently Asked Questions (FAQs)
What is the best brand of tennis racquet?
There are plenty of tennis brands so that players can choose the best tennis racquet brand according to their needs and budget. Some best tennis racquet brands are Wilson, Babolat, Prince, Dunlop, and Head. These are the leading and most selling brands of tennis racquets. Meanwhile, some other brands like Technifibre and Yonex are also making their mark.
Which tennis racquet is better, heavier or lighter?
It's not an easy question to answer because both lighter and heavier racquets have different benefits. For example, heavier rackets are more stable, robust, and transmit less shock. On the other hand, light rackets are easy to maneuver, and players can swing it faster. So, it depends on the needs of the players, and they can choose accordingly.
Is Babolat better than Wilson?
The answer is No because, in ATP and WTA tours, the most used racket brand is Wilson. However, it doesn't mean that Babolat isn't popular. Hence, Babolat is the second most used brand. Ladies prefer Babolat over Wilson. On the other hand, men prefer Wilson over Babolat. So, both these brands are competitive and most used racket brands.
Where to buy tennis racquets?
It depends on you from where you want to buy the tennis racquets. If you want to purchase online, then Amazon is the best option. Otherwise, you can visit a store that contains all the sports equipment. Whatever option you choose, just ensure that you're not compromising on the quality.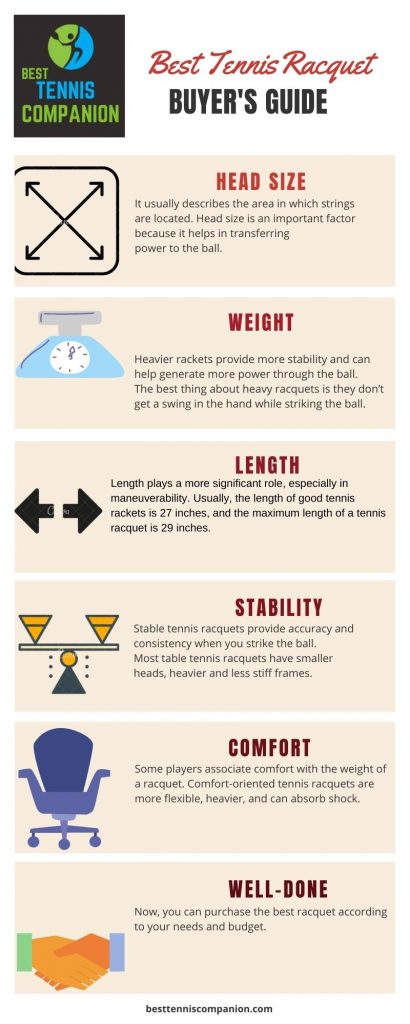 Final Words
It becomes difficult to choose the best tennis racquet because there are plenty of options available. Moreover, you have to purchase a tennis racquet according to your skill level, needs, and budget. Furthermore, we have covered the types of tennis racquets and the 10 best tennis racquets to make things easier for you. Moreover, our buyer's guide will help you choose the right tennis racquet.